Why Volkswagen Is Beating Tesla In Europe – The Strategies Review
Why Volkswagen Is Beating Tesla In Europe, In the U.S., Tesla dominates the conversation around electric vehicles, as consumers instinctively associate the brand, and Elon Musk's eccentric, visionary persona with the push to go electric. But in Europe, it's a different story.
While Tesla's Model 3 has been selling quite well in the region, it's not nearly enough to knock the Germany-based Volkswagen Group out of its top spot in the European EV market, where it's garnered about 26% market share in the first half of 2021.
Volkswagen's ambitions for electric vehicles are global, and they're ambitious. They really want to go all-in on EVs. And they are, like everyone else, gunning for Tesla.
The Volkswagen Group, which includes many different brands, such as Audi, Bentley and Porsche, has an edge in Europe thanks to its local manufacturing, brand familiarity and cheaper price points.
Not to mention Europe's tightening vehicle emissions standards and steep noncompliance fines, which pushed VW to go electric as the company sought to rehab its image in the wake of the 2015 diesel emissions scandal VW has no choice but to fully, aggressively pursue this strategy in Europe.
Tesla's Berlin Gigafactory hasn't gotten up and running yet, so it's really a timing issue. VW just started selling cars more aggressively in Europe than China and the U.S.
Whether it can replicate this success in other markets remains to be seen, as Volkswagen still has many models under development. They've got a lot of vehicles coming, and it takes time to get people to understand that it's there, and aware of it and want to consider it.
You know, it's not necessarily that someone will not consider an electric vehicle that's not from Tesla. It's in some cases, they don't even know it's there.
In 2015, Volkswagen was caught cheating on American air pollution tests, programming their diesel vehicles to activate emissions controls only when emissions testing was in progress. But when the cars were operating regularly, they emitted 10 to 40 times the legal amount.
Dieselgate kind of really propelled them to try to find a different way to power their vehicles. They really had to change their image. After the scandal, the Volkswagen Group replaced their CEO multiple times.
But when Herbert Diess took the reins in 2018, he steered the company towards electrification. It's kind of turned into a blessing in disguise because now the company has aggressively pushed a full electric strategy.
Diess has committed to spending about $68 billion by 2024 on electric cars and digital technologies. By 2029, Volkswagen says that it will build 26 million EVs and will offer 50 different fully electric models by 2030.
Adding everything up, very emotional vehicles, high economies of scale. I think we will be the most profitable company in electric vehicles. Here at the Transparent Factory in Dresden, Germany, Volkswagen produces a limited volume of the ID.3, its top-selling EV in Europe.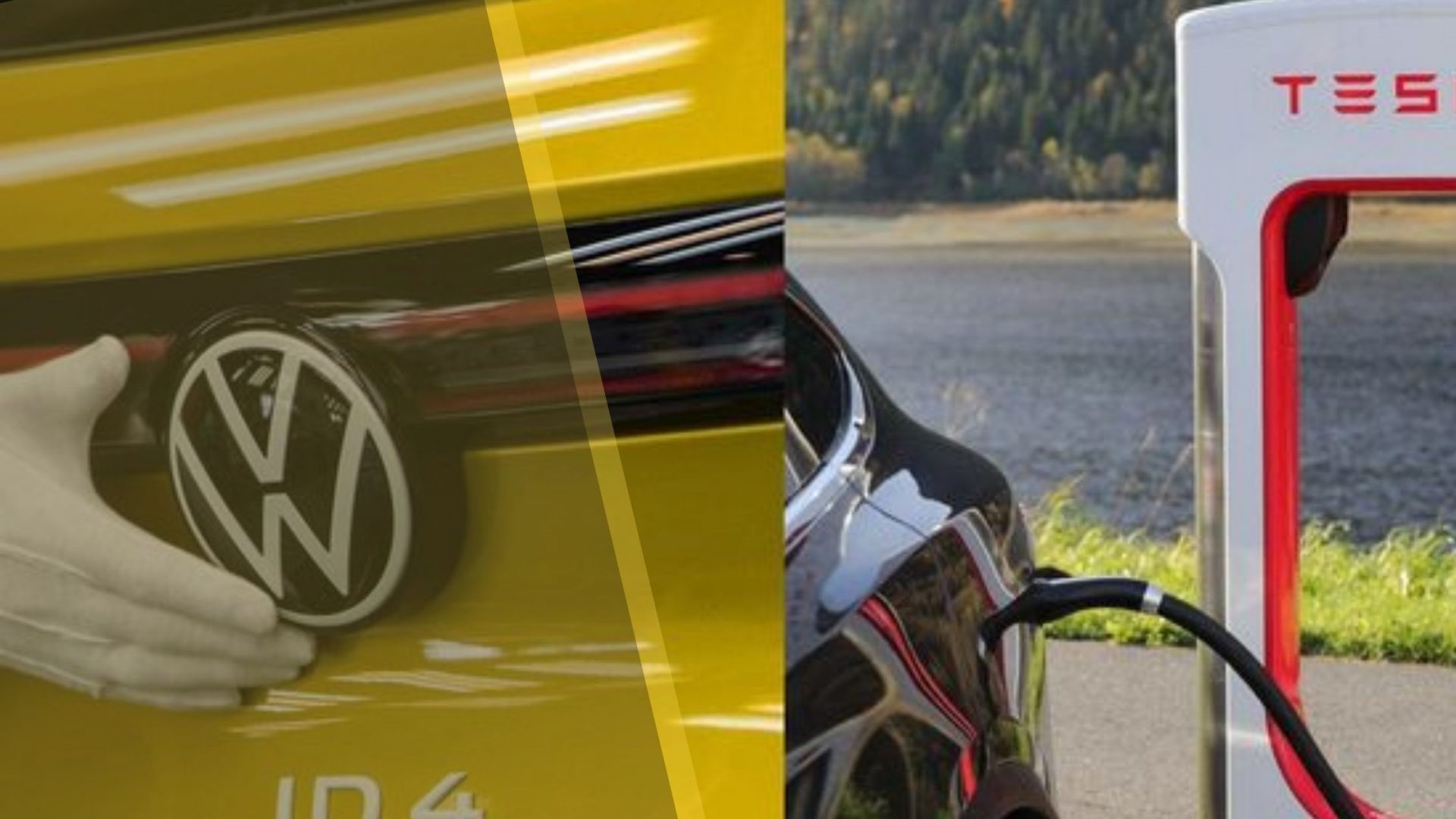 This compact car is mass-produced at VW's Zwickau plant, which is now solely focused on EVs, having made its last combustion engine vehicle in June 2020. From my point of view, electric mobility has won the race.
And considering the high volumes, we are targeting, I think the customer will also benefit from the economies of scale, decreasing prices. In September 2020, VW also unveiled the ID.4, an SUV aimed at the global market that has become Volkswagen's top-selling EV globally.
While ID.3 is not sold in the U.S., ID.4 is. It will be produced at Volkswagen's Tennessee plant beginning in 2022 and production is already underway in Europe and China.
Volkswagen is beating Tesla in Europe but for how long?
But as Volkswagen ramps up production of all of its EV brands, it's got a ways to go before it catches up with Tesla globally. In the first three quarters of 2021, Tesla sold over 627,000 EVs, while Volkswagen sold about 293,000. Volkswagen knows that it can't necessarily become another Tesla.
No one can necessarily become another Tesla, even some of the EV startups. Tesla had the EV market essentially to itself for a decade, which is why their market share is so high, which is why they have the following that they do.
`But as automakers like Volkswagen fully commit to electrification, analysts say that Tesla's dominance is sure to wane. In a growth market like EVs, it's nearly impossible for a company like Tesla to maintain its majority market share.
And nowhere is that more clear right now than in the European market. In 2020, strict vehicle emission standards went into effect in Europe.
This resulted in traditional automakers bringing a suite of new fully electric and hybrid vehicles to market, and Volkswagen surged past Tesla to become the region's EV leader. The regulations in Europe also require huge fines if you miss your compliance.
And that's a particularly effective motivator for some of this change. So far this year, about 72% of the Volkswagen Group's EV sales have been in Europe. Currently, it has 25 different all-electric models on the market.
And historically, some of its most popular EVs, like the e-Golf and e-Up have been tailored for Europe, with shorter ranges but cheaper price poin s than Tesla in Europe, you have shorter commutes, you don't need as big of a battery range.
So, therefore, you don't need these large cars. You can get much smaller EVs. The introduction of the ID series though has given Tesla a run for its money in the region. The base model of the ID.3, for example, gets about 265 miles per charge, nearly identical to the standard Model 3.
And it still costs at least $5,600 less, depending on the country. That price differential is largely due to the fact that Tesla is not yet producing vehicles in Europe, and therefore has to pay transport fees and import taxes on its cars.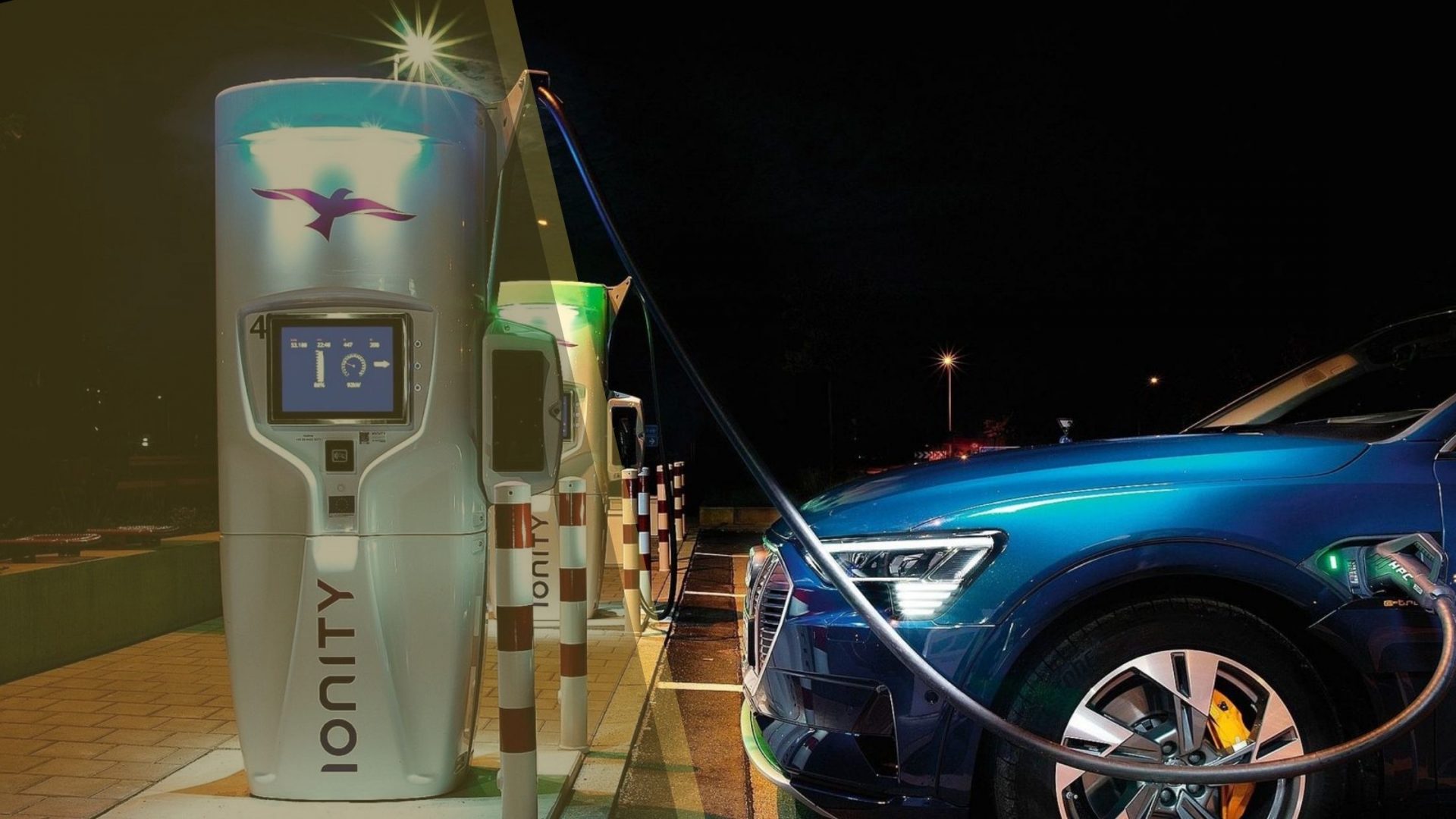 That should change soon though, as Musk aims to start production at Tesla's Berlin Gigafactory by year's end and ramp up the volume throughout next year. But just like Tesla in the U.S., VW has an important head start in the region, along with deep brand familiarity.
They have a history there, much like the Detroit automakers do in the Midwest, Volkswagen has for all of Germany, if not close to all of Europe. Out of all of Volkswagen's vehicle sales in Europe this year, 7.9% have been all-electric vehicles.
That's nearly double last year's percentage. But by 2030, Volkswagen says that 70% of its vehicle sales in Europe will be EVs. This is a VW shift that is intended to be deep and thorough, and it's going to take some time to get there.
What happens in the next three years in terms of who's selling more than somebody else is important. But really, it's going to be 10 years before we have a really good sense of what's happening.
With the introduction of the ID.4 SUV, Volkswagen is aiming to broaden its market share worldwide. So far, sales are picking up in both the U.S. and China. In the U.S. and other markets, I think the SUV segments are even stronger.
Volkswagen launch
And that's why we launched our ID.4, which is basically the electric world car for us. Americans like bigger cars largely because they're just less space-constrained than Europeans. More of the country is rural, roads are wider, and parking spaces are larger, making roomy vehicles more appealing.
The base version of the ID.4 costs about $40,000, more expensive than other SUVs like the Chevy Bolt or the Hyundai Kona, but definitely less pricey than the Tesla Model X or Model Y, which have both experienced substantial price hikes this year.
And it's far from the Group's only international all-electric offering. Volkswagen, Audi, Porsche, all within the Volkswagen family, they all have their own different brands. And that's actually where Volkswagen has a very big advantage over Tesla because they can appeal to more buyers.
So every customer can find a suitable product, whether it's in the luxury segment, the sporty segment, the volume segment. But even with these myriad offerings, there's a good chance that VW will never be the EV leader outside of its home market.
We're big believers that the future actually looks like it'll be one of more regional champions, perhaps Tesla in the U.S. or GM, VW in Europe, and then in Asia, maybe a domestic player or perhaps Tesla there.
Currently, Tesla controls about 63% of the U.S. market, with the Volkswagen Group vying for a distant second. While in China, Tesla and local automakers such as BYD and SAIC are gunning for the lead. All this could change rapidly in the coming years though, as the EV market matures.
And as Narayan sees it, Volkswagen may be well-positioned to fill niches that Tesla doesn't yet reach. If you look at the lineup that VW has and what Tesla has, they don't really fall into each other's sandbox.
You know, VW has Audi and Porsche, which come at the luxury and SUV market, something that Tesla has somewhat ignored. And then where Tesla really is, is its Model 3 and Model Y, which really come above where VW brand's offerings are, which are priced probably 20 to 30% below.
Volkswagen's ID.6 also began deliveries in China this summer. It seats seven, to accommodate a market where multiple generations of a single-family often travel together in a single car.
If you look at what Volkswagen has come, they've got another 10 or 11 VW branded vehicles coming, plus Skoda, plus SEAT, plus Audi, plus Porsche. By 2030, Volkswagen expects that EVs will make up 50% of its total vehicle sales in both the U.S. and China.
To reach these ambitious goals, analysts say that VW will need to improve upon its software and battery technologies, areas where it's still seen as lagging behind Tesla. The one major advantage if you talk to anyone about Tesla, it's their software.
The major kind of example is over-the-air technology. Tesla was really the first to bring that out. It really showed that they are treating the vehicle more as a technology and not just something to get you from A to B.
Tesla has long pushed out vehicle updates through its app, making it simple for users to install the latest navigation, entertainment and safety VW has a very big ambition to be a software leader. It wants to be the second-biggest software company in Europe, right after SAP.
They actually feature. Volkswagen wants to do the same for its ID series, and the company says that it is investing around $19 billion in digitalization and software capabilities over the next five years, which includes autonomous vehicles and ride-sharing services.
believe it could be kind of a "one app to rule them all." We expect the car to be a mobile device on wheels in the very near future. We have our own company within the Group that is purely focused on software development and autonomous driving.
When it comes to batteries, a teardown of the ID.3 revealed that Tesla's batteries are about $1,300 cheaper than Volkswagen's per car. But VW is thinking big, with plans to build six giga-factories throughout Europe by 2030, and one in China.
By controlling its own battery supply chain, Volkswagen can ensure that it gets the best pricing available and can bring vehicles to market quickly, even if there's a supply chain crunch.
They don't want to face another situation like the semiconductor chip shortage, where they're literally begging and pleading and negotiating, just trying to get a few small microchips.
Lastly, Volkswagen is investing heavily in charging infrastructure We are targeting, in total, 400 charging stations in Europe, 100 of them in Germany.
And the idea is to have every 120 kilometers, one charging point. Volkswagen also has a U.S.-based charging division, Electrify America, that formed in the wake of the Dieselgate settlement. It's committed to more than doubling its American and Canadian charging infrastructure by 2025.
And the Volkswagen Group is building out its charging network in China too, in partnership with a local startup. Currently, Tesla has the most charging points and it is exclusive to Tesla owners. And so you really have these two ecosystems, the Tesla Supercharger network and then kind of everybody else, who are largely interoperable.
Tesla has recently opened its Supercharger network to non-Tesla owners for the first time, through a pilot program in the Netherlands. And so if this effort expands, it would be a huge boon to Volkswagen and every other EV maker.
But in any event, this problem of public charging will be resolved. They're being built at breakneck speed right now.
How Volkswagen Plan to overtake Tesla market
As Volkswagen plans to release an abundance of new EV models, works to improve its software capabilities, and builds out new battery plants and charger networks, it seems doubtless that the company will cut into Tesla's market share, though whether it can become the global EV leader remains to be seen.
Any automaker in the world would love to have the cachet and the appeal of Tesla right now. They have gone beyond a car brand to a cultural kind of phenomenon. But scale is undoubtedly on Volkswagen's side.
While Tesla has historically struggled to ramp up production, mass manufacturing is something that the Volkswagen Group knows a thing or two about. I think it's an advantage for all of the traditional automakers, that they already know how to mass-produce vehicles.
And not only that, if you look at the fact that they have plans to convert. It's still a costly process, but they do have a manufacturing footprint to work with already, and Tesla is still developing theirs. But Tesla is making progress, gearing up for production on Volkswagen's home turf.
Tesla is obviously still gunning and growing its business, including a Gigafactory in Berlin, which is about two and a half hours away from Volkswagen's world headquarters. So if that wasn't a shot across the bow at Volkswagen from Tesla, nothing really is.
Also Read:
5 CNBC Ways Major League Soccer Plans To Overtake Baseball